It's Alive!
... With the sad demise of Bebi Electronics of Fiji, we have decided to start an "open source" project to resurrect the Bebi Owl.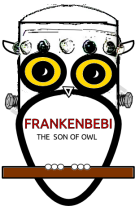 The goal is to offer a replacement for the Owl anchor light taking advantage of the latest technology, while keeping the price and quality in line with the original Owl light. We plan to offer the FrankenBebi in three versions.
A complete, ready to install FrankenBebi

Build your own FrankenBebi kit with parts and instructions. (Igor not included)
An open source list of parts we use to assemble the FrankenBebi free to anyone who wants to figure it out and/or modify it for themselves.
.
At this point, we have several prototypes under test, and expect to have finished prototype products (version 0.01) ready in 4 to 6 weeks. We need 5 or 6 beta-testers to put these prototypes through their paces. If anyone is interested in being a "beta-tester", please send me a PM. We would prefer beta-testers to be active cruisers in order to subject the prototypes to the maximum "real world" conditions in the least amount of time. The beta-test prototypes will be straight 15 LED radial lights with no "day-night" switch. They will include a 5 meter power cord with a "lighter plug" or bare wire connection as you choose. Each unit will include a top ring so light may be hung from a flag halyard etc. There will be no charge for the beta-test units. We only ask that you beat 'em up, and let us know how they perform. The new system we are using provides a minimum output of 27 candelas per LED which according to the USCG intensity tables from 33 CFR 84 will provide a visibility of 4 nm in specified conditions in a 360 degree arc.
We do not expect to have these lights "certified to meet requirements" by an outside laboratory due to the cost of testing. Please be aware of the risks of using "uncertified" equipment, even if it meets requirements. You may bear the burden of proof.
We are not sure at this point that we can offer the original Bebi "lifetime" warranty, but we know we can offer a 5 year, no questions asked, replacement. If this project is successful we will also offer to replace any original Bebi Owl light bearing the "A
Genuine
Owl Lignt" logo that fails to operate. This offer is out of respect to the original Bebi Electronics founders and crew.
This post is not a solicitation for business, but rather a request for input from the cruising community. The Owl was too good a product to let fade into the past. We hope to resurrect it with this project.
Regards,
Cap' Couillon and the FrankenBebi Project
(For a quick view of the typical
goings on at the FrankenBebi project, click here)